Manage and Enhance the Jira Top Navigation and Overall Appearance
STAGIL Navigation for Jira gives you the power to customize the appearance of Jira, including many elements that also highly improve the user experience. Adjust the top navigation bar, include header images, add footer images and additional menus, change the issue view screen, modify the project navigation bar and more!
More details
Take your Jira's top navigation bar and the overall Jira appearance to the next level with the STAGIL Navigation app:
Configure the whole top navigation bar according to your users' needs.
Hide standard Jira system and other app menus.
Create new custom menus with links to internal Jira issues, Confluence pages or other external web links. Use separators to improve the menus visually and create dynamic project lists. The app also gives you a deeper menu hierarchy.
Create a different appearance for each of your user groups.
If you have to stick to your corporate identity guidelines or just want to improve the appearance of Jira by adding a custom image on top of the navigation bar, STAGIL Navigation gives you many options to do so.
You also have the ability to adjust the Jira footer to your needs. Remove the standard footer and add helpful links for your Jira users, add an image and more.
Manage each panel on the Jira issue view screens. Have the available panels collapsed or expanded automatically or completely remove them from the issue screens. Choose a panel setting for each project, issue type and user group.
With our app, you can even adjust the project side navigation bar. Add unnecessary items for certain user groups, like releases or test management, and add your own useful links.
Top application example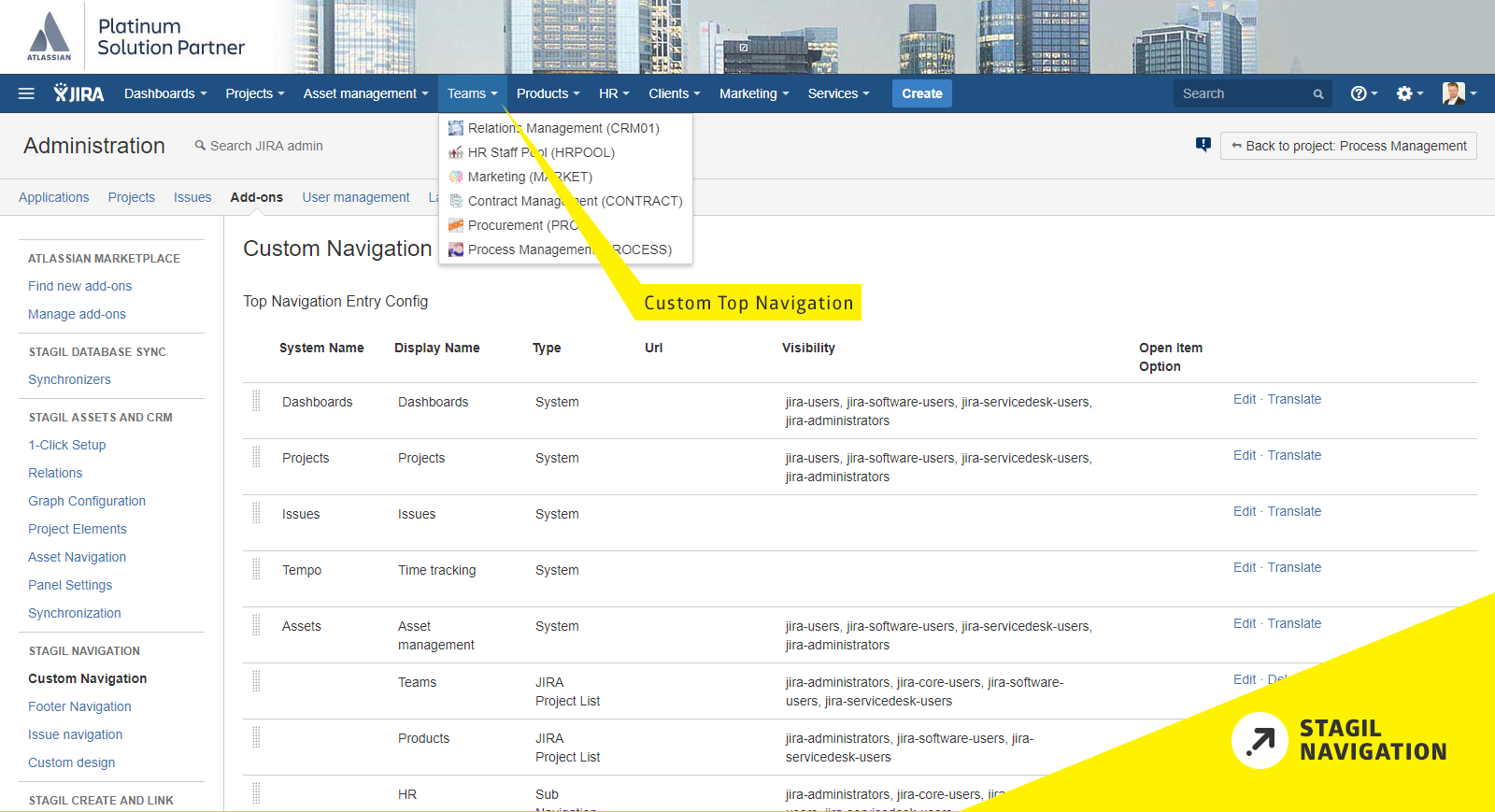 Add Your Own Top Navigation Menus
The app enables you to easily configure the Jira top navigation bar. You can hide standard or app menus and configure completely new multi-level menu items. There are many possibilities like web links, Jira project lists based on regular expressions and JQL search results. For every Jira user group you can define a different navigation bar appearance, so it reflects each user's needs without overloading it.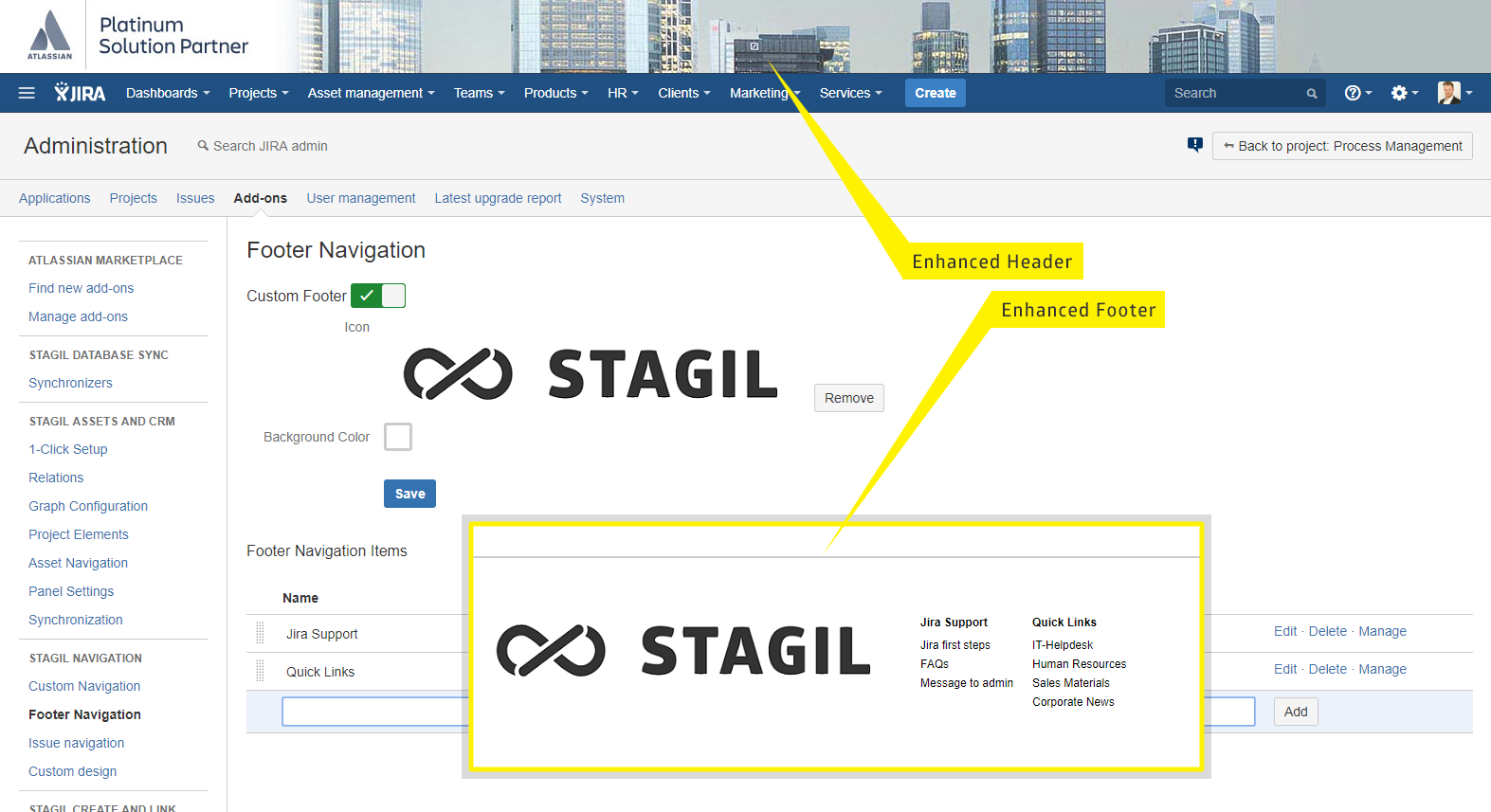 Create A Header And Adjust The Footer
STAGIL Navigation for Jira gives you the ability to add a header image to reflect the corporate design within Jira. The Jira footer can be configured to also include an image, as well as additional menu items for an increased user experience and to add helpful links.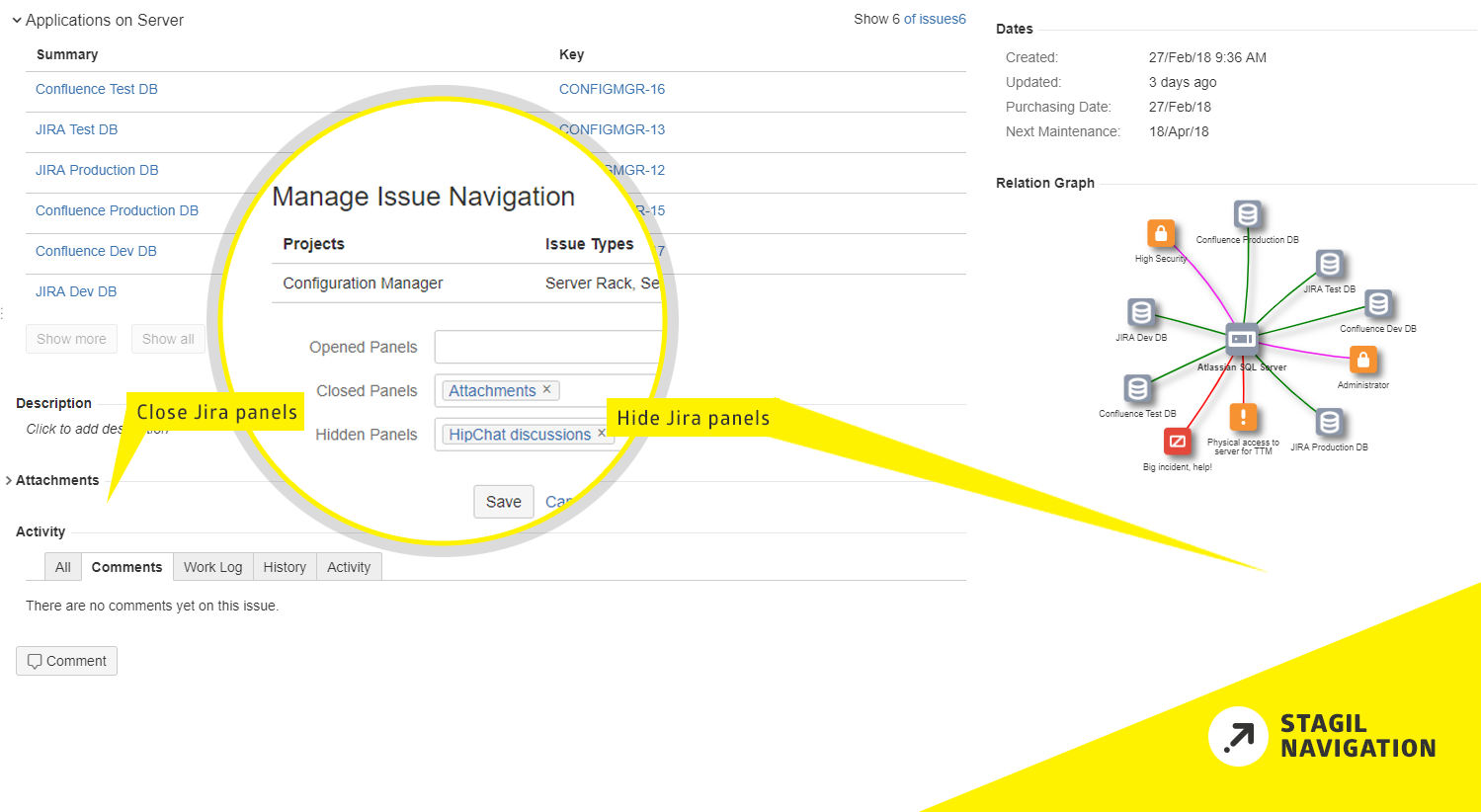 Configure The Issue View Screens
Manage the behavior of your issue screen panels and choose, which panels should be expanded, collapsed or completely hidden from the issue view screens. Configurations can be adjusted per user group, issue type and project. So you get the power of where you want to see the "HipChat Discussion" links, "Tempo Time Tracking" and all the other panels that you do not necessarily want to mess up every project's issues.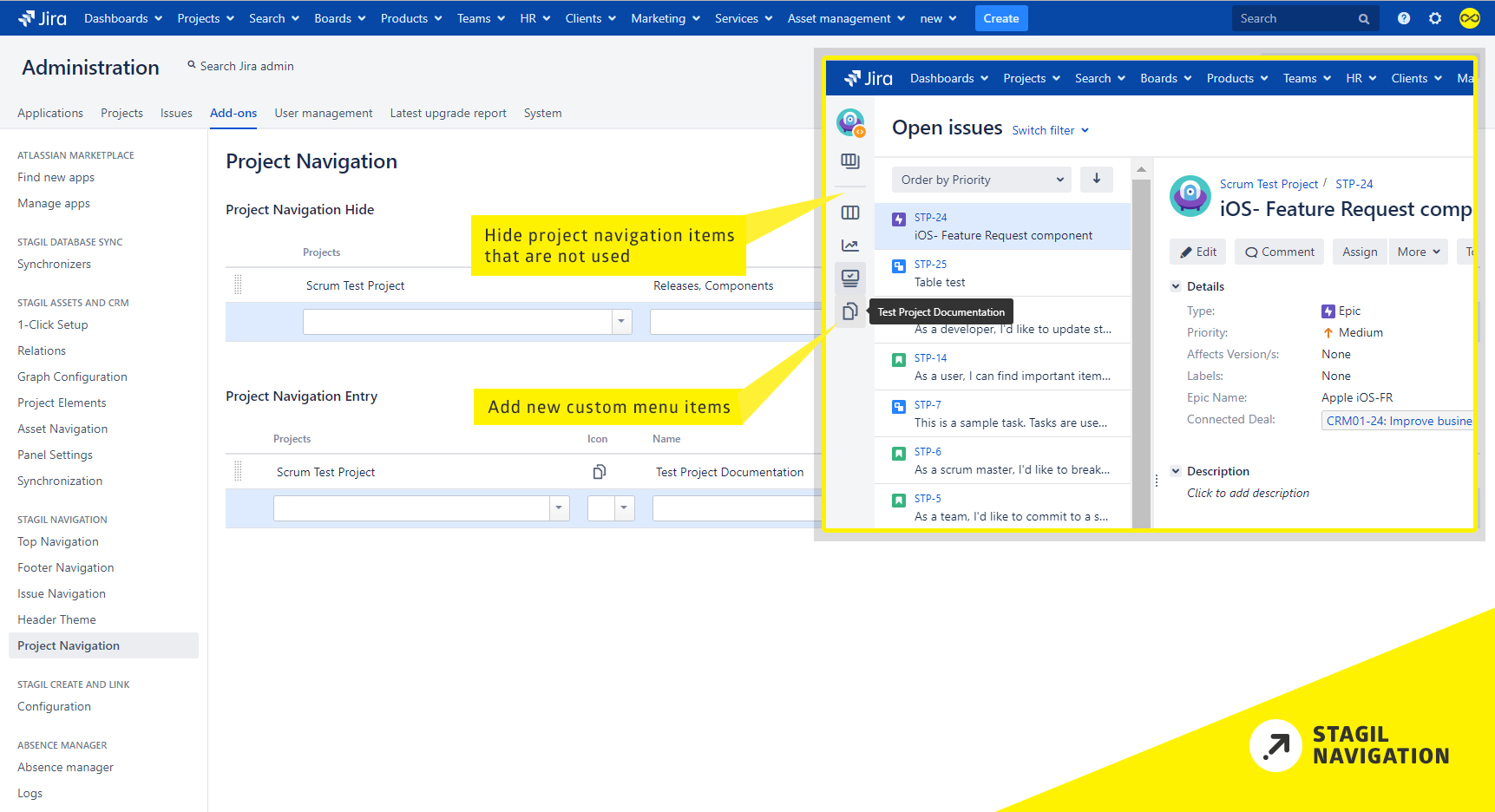 Adjust the project side navigation bar
Sometimes users get confused with all the links they have available in the project's side navigation bar. Not every user needs menu items like Reports, Test Management, Releases etc. With STAGIL Navigation for Jira you can remove unnecessary menu items, but keep them for the Jira users that do need these links. Additionally, add new items to the side navigation that are helpful for you users' daily work.