Manage and Enhance the Confluence Top Navigation and Overall Appearance
STAGIL Navigation for Confluence gives you the power to customize the appearance of Confluence, including many aspects that also considerably improve the user experience. Adjust the top navigation bar, include header images, add footer images and additional menus!
More details
Take your Confluence top navigation bar and the overall Confluence appearance to the next level with the STAGIL Navigation app:
Configure the entire top navigation bar according to your users' needs.
Hide standard Confluence system menus and menu items from other apps.
Create entirely new custom menus with links to internal Confluence pages, Jira projects or other external web links. Use separators to visually upgrade the menus and create dynamic space lists. The app also gives you an additional menu hierarchy to create more complex menus.
Give each of your user groups a different top navigation menu.
If you have to follow your corporate identity guidelines or simply want to enhance the appearance of Confluence by adding a custom image on top of the navigation bar, STAGIL Navigation gives you the ability to do so.
You also have the option to adjust the Confluence footer. Remove the standard footer and add helpful links for your Confluence users, add an image and more.
Top application example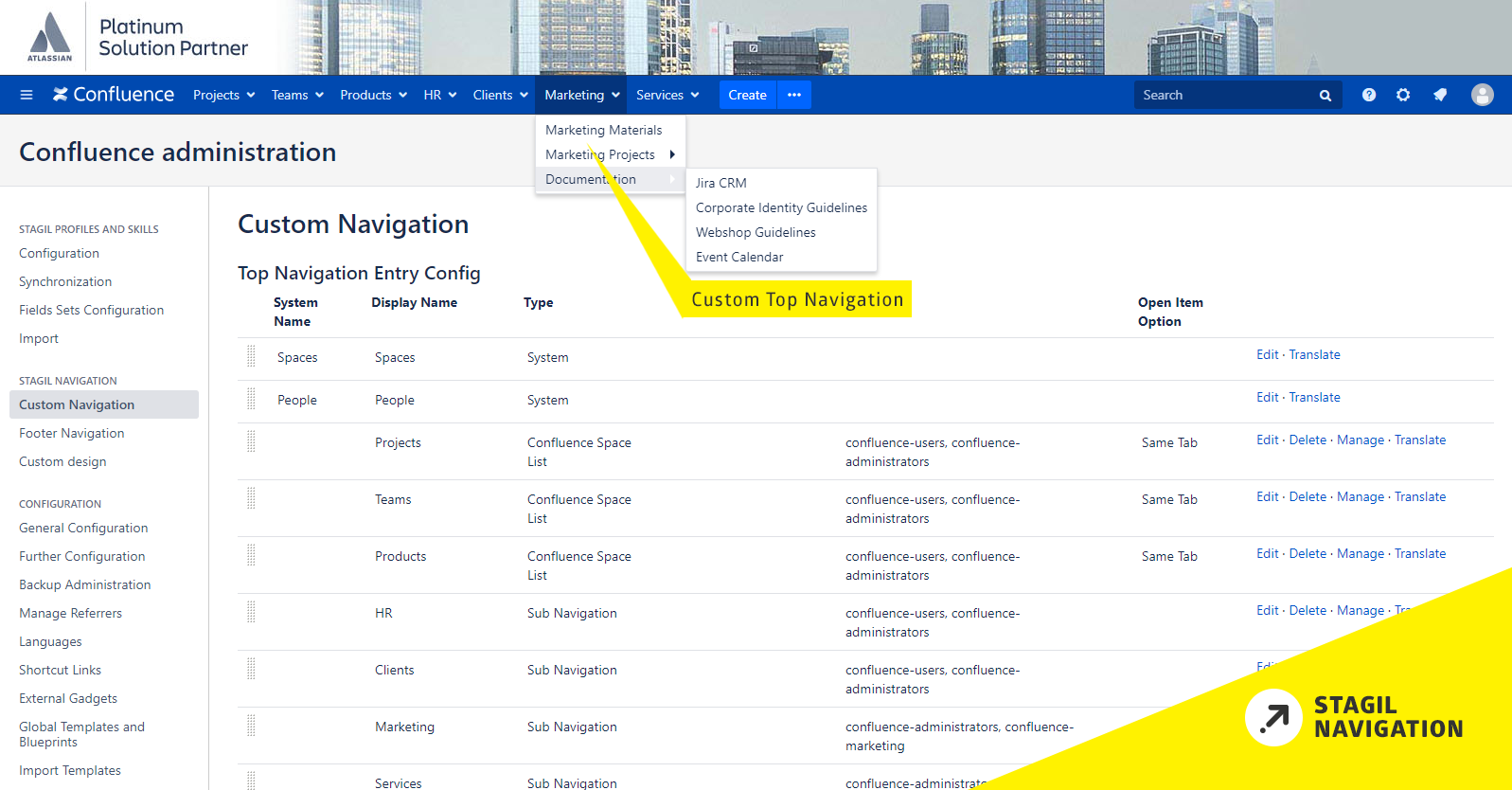 Change The Whole Top Navigation Bar
Our app enables you to easily configure the Confluence top navigation. You can hide standard or app menus that can overload the navigation bar bit by bit. It is also possible to configure completely new multi-level menu entries. There are many possibilities like web links and Confluence space lists based on regular expressions. For every Confluence user group you can create a different navigation bar appearance, so it reflects each user's needs without overloading it.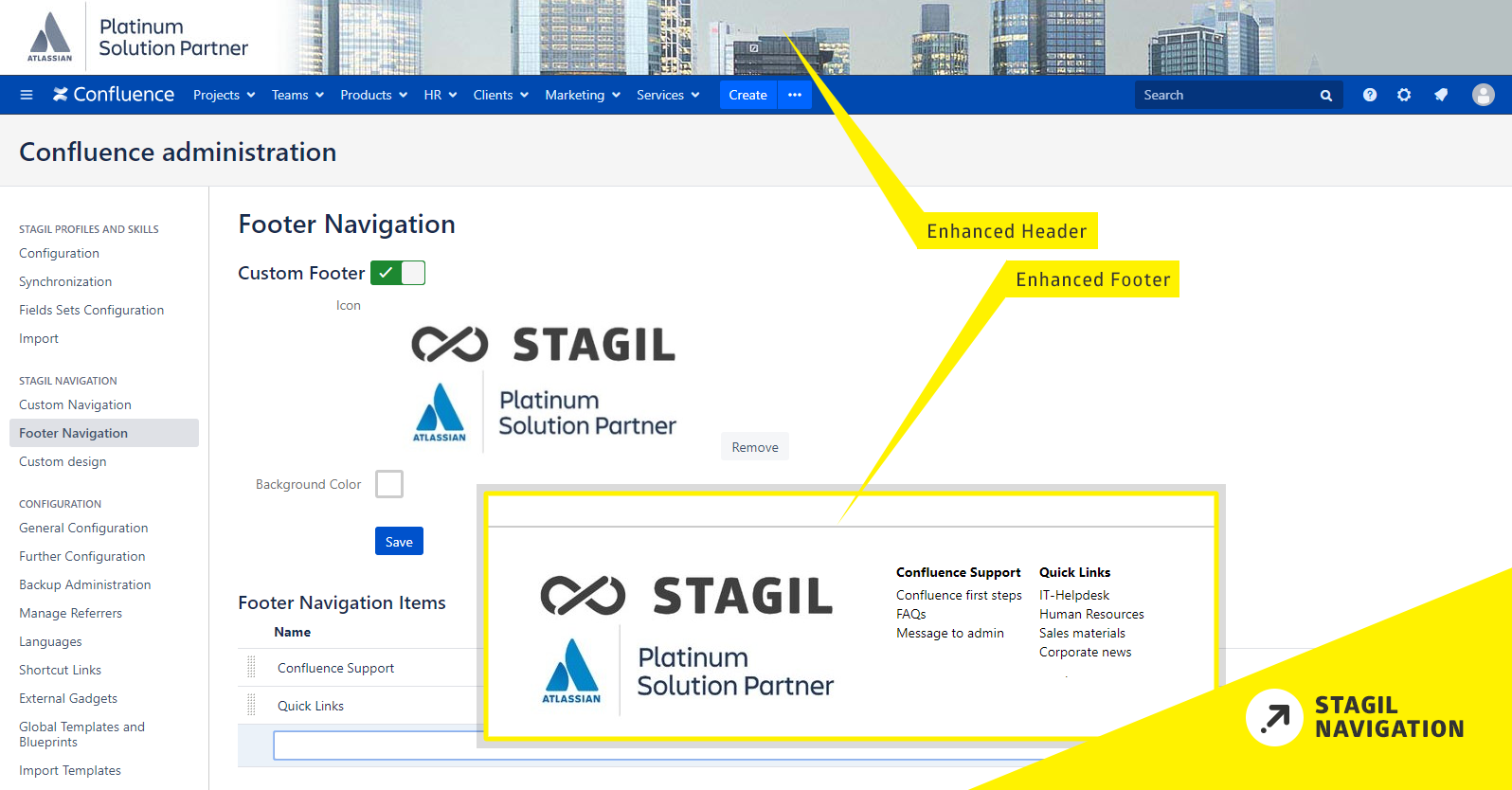 Add A Header Image And Change The Footer
STAGIL Navigation for Confluence gives you the ability to add an image as header to reflect your corporate design within Confluence. The Confluence footer can also be configured to include an image, as well as additional menu items for an enhanced user experience and to add helpful quick links for your Confluence users.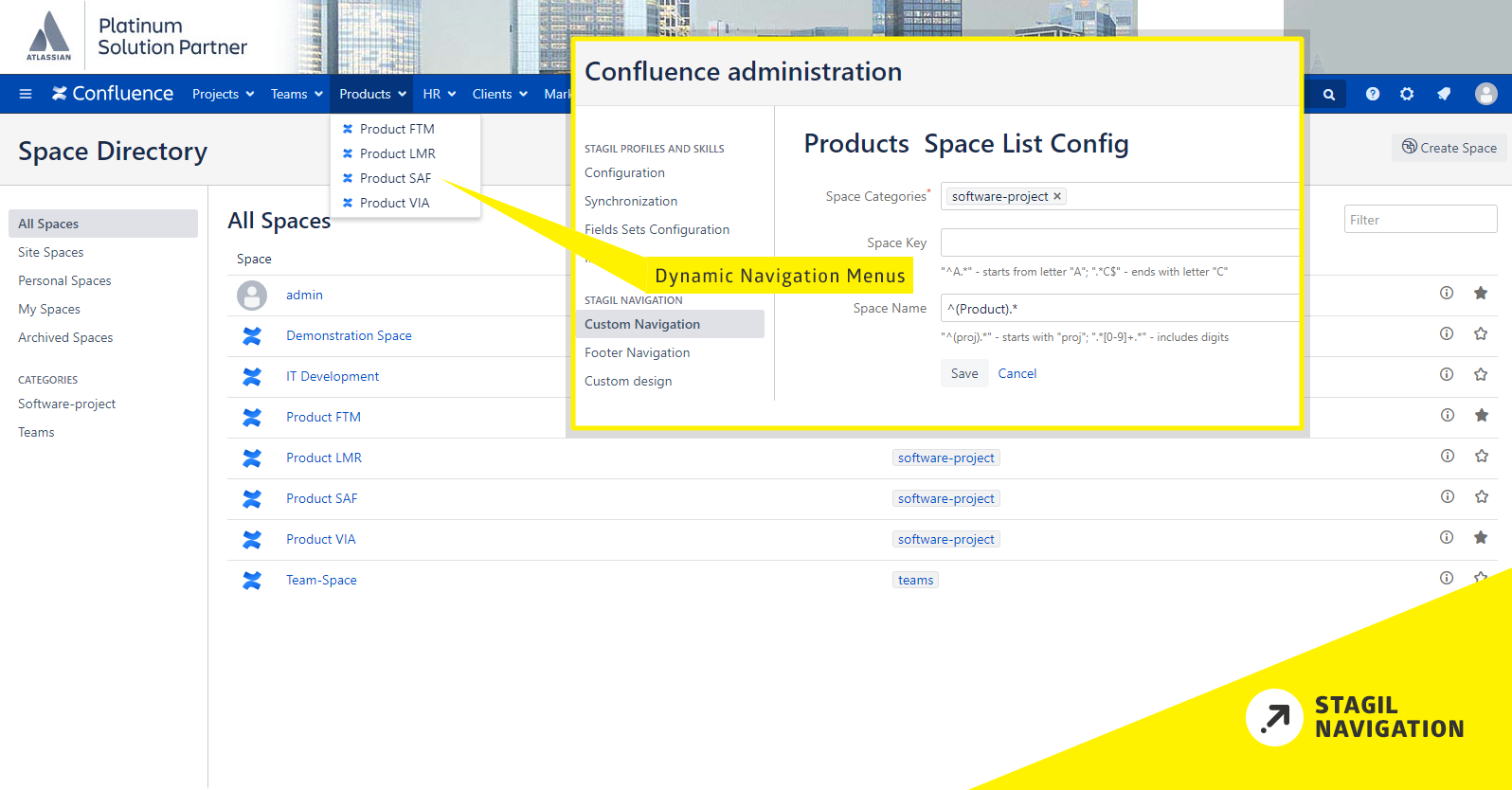 Create Dynamic Confluence Space Menus
Build your own dynamic custom space menus in the top navigation bar. The menus can be based on your space categories, the used space keys or the names of your spaces. The menus will adjust automatically when new spaces are created or spaces get deleted. So your development teams will always have all their product requirement spaces in one menu and the project managers can always see every business project documentation space without having the administrator to change the menu items.